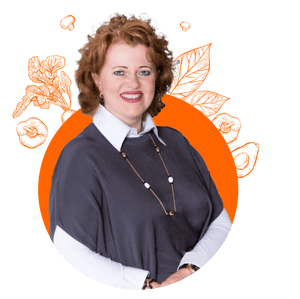 Global Brand Vice President, Hellmann's at Unilever
Christina is Global Brand Vice President at Hellmann's, one of Unilever's biggest food brands found in millions of homes across the world. Twenty-four years ago, her PhD in Chemistry took her into R&D at Unilever, an MBA, then into marketing. Christina served in multiple roles across Unilever's Foods business and now brings her expertise to both the science and communications of sustainability and purposeful brands. Raised on an Austrian farm, she also has a personal connection to the fragility of the food chain and our need to transform it. Christina is member of the Champions 12.3 Consumer Behavior Change taskforce. Today, Hellmann's is committed to helping people around the world to become more resourceful with their food and make taste, not waste.
In this conversation, Christina and Kelly talk about what it means to be a purpose-led company, and how and why Hellmann's has found its purpose in helping people around the world to become more resourceful with their food.
KEY TAKEAWAYS ON…


WHY UNILEVER BELIEVES IN BEING A PURPOSE-LED COMPANY
Kelly Peters: One of the things that I've been focusing on is evolving my own thinking around innovation, to think that we need to go past using the scientific method and behavioral insights for innovation. I think that as much as the scientific method gives us a framework for innovation, the scientific method lets us develop evidence. It lets us test and learn, and even learn from failure. Those are incredible things for innovators and entrepreneurs and business leaders to have a mechanism to guide the 'how to do' innovation.
But the new chapter for me has been about linking innovation with purpose in order to drive aspiration. I think that Unilever itself has been carrying the torch for many years now on embedding purpose and commitment to the UN sustainability goals, and building out an actual framework for stakeholder capitalism. I'd love to hear your perspective on what it means to you to be a purpose-led company? Is it doable? How do you balance sustainability and stakeholder capitalism with the traditional KPIs (Key Performance Indicators), and shareholder interest?
Christina Bauer-Plank: At Unilever, our vision is to make the case that our purpose-led future-fit business model can drive superior performance. We have a long tradition of being a responsible pioneering business. It goes back to the days of our founders. William Lever, who launched one of the world's first brands, and certainly purposeful brands, Sunlight Soap, and brought hygiene to the masses in post-Victorian England more than 100 years ago. Unilever's purpose is to make sustainable living commonplace; that is why we come to work and that is why we are in business. We want to do more good for society and our planet and not just less harm.
And what we know for a fact is that, at Unilever, our purpose-led brands grow twice as fast as the rest of the portfolio, which gives us a lot of confidence that it is possible, and it is doable. As a company, we support the reinvention of capitalism. That includes a shift in the outcomes that our market-based systems incentivize, where businesses tackle issues such as climate change, biodiversity loss, inequality, and we believe, given where we are in the economy, in the environment, and society, this is the only way forward. We want to keep the good elements of capitalism, like competition, innovation, value creation, rewarding risk, but pivot the approach in a way that delivers benefits for all stakeholders, and ensures that we do not sacrifice the future for the present.
To us, the business case is very clear. We see return on investment in several areas, we see more growth, I've mentioned that we see less cost, we see certainly less risk, and we see more trust.
WHAT IS 'BRAND SAY' VERSUS 'BRAND DO' AND WHY THEY BOTH MATTER
Kelly Peters: One of the paradigms that you use is this distinction between brand 'say' versus brand 'do' and I think this is an incredibly powerful, but simple framework for marketers. In its essence of this definition, it's very transformational. Why is it important for Hellmann's to have both?
Christina Bauer-Plank: We refer to our brand communications as 'brand say'. That is just simply everything that the brand says to its consumers in its advertising campaigns, in brand activation, PR activities. And we want what we say to be purposeful. That is, our message goes beyond promoting the product and its features and its benefits or entertaining people. Meaningful 'brand say' brings the purpose of the brand to life. In the case of Hellmann's, this is to inspire people to make taste and not waste.
But we believe that words are not enough, brands also need to take action in the real world to be a true force for good. And this meaningful and purposeful action is what we call the 'brand do'. At Hellmann's, we have been taking concrete action on food waste for some time now. For example, over the past couple of years, Hellmann's has partnered with various food charities, and food rescue organizations to help redistribute surplus food that otherwise would have been wasted to people in need. Last year, of course, during the pandemic, there was a lot to do in that space. We worked in the US with Feeding America and Farm to Food Bank, redistributing more than 1.2 million pounds of food to 200,000 families in the US who were in dire need of food to put on the table.
Right now, we are investing into tackling the problem of domestic food waste. And it's very hard developing robust consumer behavior programs. To that end, we are partnering with leading food waste and behavior change experts, including BEworks, to understand the psychology behind food waste, and what interventions can positively impact behavior. It's this combination of 'brand say' and 'brand do' through which we want to have a meaningful impact and scale contribution to the issue of food waste and be this real force for good.
WHY HELLMANN'S IS MEASURING THE IMPACT OF THEIR FOOD WASTE REDUCTION INITIATIVE
Kelly Peters: Let's bring this back to the science side of it all, and this is near and dear to my heart, which is being able to actually evaluate the impact that we're having. It's one thing to set audacious goals, it's another thing to be able to track that performance.
From your point of view, why is it important for Hellmann's to measure the impact of a behavior change program with something as rigorous and complicated and time consuming as the ordeal of experimentation rather than just do it?
Christina Bauer-Plank: We are really serious about wanting to make a real and meaningful impact with our 'brand do'. And we're making a considerable long-term investment into tackling the issue of domestic food waste at its very heart. First by understanding the psychology behind why it happens, and what interventions can positively impact behavior. To do that, we're partnering with leading academics and experts in the field in the development of these behavior change programs.
The only way to be sure of their true impact is rigorous testing and impact measurement. Wasting food is not a single behavior, it is the outcome of a complex chain of everyday behaviors, from meal planning to shopping, storing, preparation, and consumption of food. We don't want to leave it to chance or only qualitative evidence about how the behavioral changes we ask people to make eventually affect how much food they waste. So therefore, we are measuring it with great scientific rigor and with your help. And perhaps, this is the part where the analytical chemist in me comes through, because I really personally value and enjoy the scientific approach that we're taking in the work.