Since I founded BEworks nearly a decade ago with Dan Ariely and Nina Mazar, our firm has been guided by this ambitious mandate. Never before has it felt more meaningful. In these uncertain times, scientific thinking and insights from behavioral science research are essential in our pursuit to re-shape society and the economy.
In response to the ever-increasing importance of realizing our mandate, I am thrilled to introduce the BEworks Blog—a place for us to bring our best thinking to you, for you to find solutions to your challenges, and drive you to ask the big questions like "why?", the skeptical ones like "how do you know?", and the aspirational ones like "what if?"
To achieve these aims, this blog will host a variety of content. We will share our expert takes on how BE can help solve some of the greatest challenges facing society and the economy, how organizations can incorporate BE into their operations and practice, and what we see as the future of applied BE.
We will connect readers to our more in-depth thought leadership, like white papers and in-depth research reports, and we will feature interviews with some of the world's leading thinkers. We will share practical advice on making use of cutting-edge research from the forefront of academe, and from our own work on the frontlines of applied behavioral science.
It will also be the home of our new series, BEworks Conversations, which features informal discussions with the world's greatest thinkers on a variety of topics. I'll be speaking to everyone from Barbara Kahn on customer loyalty during COVID, rituals with Michael Norton, and why science is important for organizations with David Pizarro, just to name a few.
Though the content will be varied, it will be a unified by a common theme—equipping you with the insights, philosophy, and ways of thinking required to use behavioral science to navigate the considerable challenges we collectively face, in business, policy, and across society.
I am excited to embark on this new intellectual adventure, and hope you will join us.
Stay tuned.
Sincerely,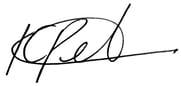 Kelly Peters
Co-Founder & CEO